"Old Quebec Street is a treasure of downtown. A landmark in its own right, a sight to behold." –C. Mayled
Prior to the grand re-opening in 2003, Old Quebec Street Shoppes underwent extensive renovations to provide a unique shopping and event venue for the city of Guelph. Now, the beautifully reconstructed Shoppes provide an atmosphere that exudes Old European charm and it stands proudly amongst the many historic buildings in the heart of the city.
A taste of Europe in Guelph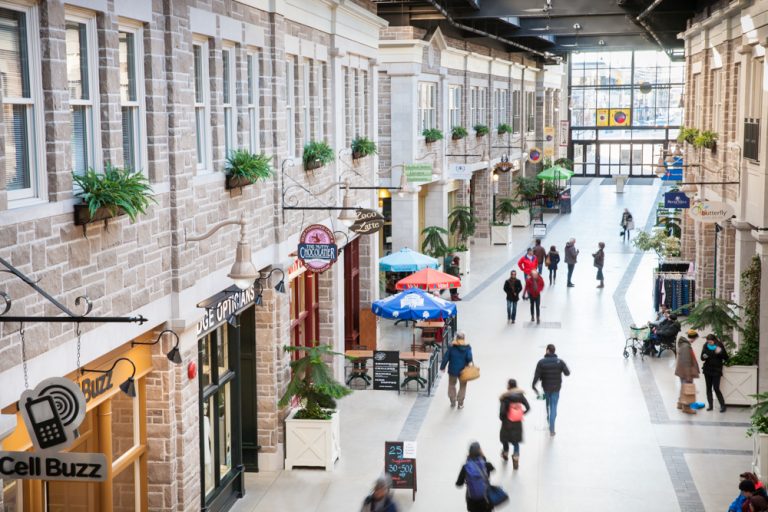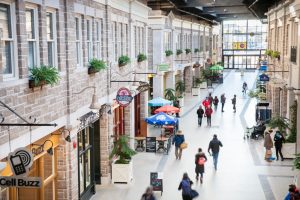 The architectural design of the Old Quebec Street Shoppes is reflective of an elegant, covered streetscape, reminiscent of a European city market such as Covent Gardens in London, England.
Every aspect of the renovation took into consideration unique design components including, the impressive 276' glass ceiling running the length of the main street which allows natural light to flow through the space, the street-style layout of the retails stores, the comfortable seating areas, the limestone-clad store fronts, the wrought iron window boxes, and the signs hanging from each storefront.
Walking down the middle of Old Quebec Street, you get the impression that you're walking down an actual street — and the second storey windows and balconies overlook the main avenue, where visitors stroll just like they would outdoors.
We are the village in the city. Whether you're exploring the boutique shoppes in search of a new outfit, indulging in a gelato, or lingering over a coffee and pastry, the enchanting Old Quebec Street Shoppes has it all.
#OldQuebecStreetVillage
Events at Old Quebec Street Shoppes
The charm and character of Old Quebec Street Shoppes makes it an ideal place to hold community events, annual festivities, fundraisers, showcases, and exhibits.
Centrally located in the heart of Guelph, we have the amenities and the connection points to help make your event a success.
For more information about booking an event, click here.
________________________________________________________________________
Annual Spring Art Show & Sale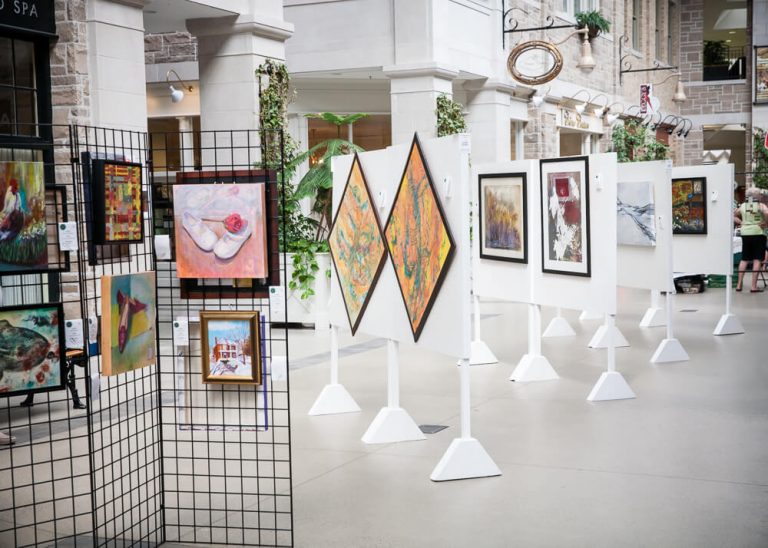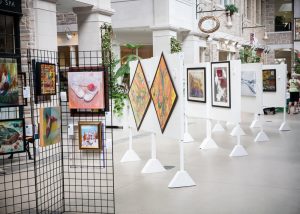 Old Quebec Street Shoppes is pleased to host the annual Spring Art Show & Sale.
Running from April 27-29, 2018, the Guelph Creative Arts Association is proud to present their annual signature show featuring original pieces by novice and experienced visual artists.
The Spring Art Show and Sale will showcase a wide variety of artistic work including photography, crafts, paintings, and sculptures — highlighting the many talented artists in our community and beyond.
The Old Quebec Street Shoppes is proud to host this inspiring event and looks forward to welcoming you.