About the two hearts Boutique Wedding Show
This specialty Boutique Wedding Show is produced by Barrel Works Guelph Ltd. with the support and assistance of Crème Couture and Expressions Modeling Agency.  The two hearts Boutique Wedding Show takes place in beautiful Old Quebec Street, a landmark in downtown Guelph.   We seek to attract exhibitors that trend towards uniqueness with quality over quantity. If your company is service based, you provide an excellent and authentic experience and service.  This curated Boutique Wedding Show will provide attendees an exceptional pre-wedding experience being fully designed as an intimate experience for couples to meet and talk with local wedding vendors.
Event Management Support
The two hearts Boutique Wedding Show has an experienced Event Team who will oversee the planning, delivery and management of the event. They will provide exhibitors with regular updates via newsletters and conduct all administration and financial support as well as providing guidance by email and phone during the planning stages.
Marketing and Publicity
The two hearts Boutique Wedding Show is committed to extensively advertise, publicize and promote the event to ensure high attendance.  Local media and news outlets will be made aware of the event through press releases as well as local radio coverage.
Free exhibitor listings and general information will be included in social media campaigns.  Exhibitors are expected to share images on their own social media platforms.
Security and event support
Professional security staff are on site during the event operating hours.  The Event Team will be present and able to assist where necessary.
Cabana and Table Rental
Exhibitors have a choice of either a cabana or a table.  These are available on a first come first serve basis (i.e. based on when the exhibitor application is received).
The cabanas are purpose-built: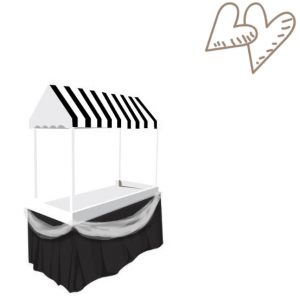 Tables are: 72" x 30" Both cabanas and tables are $350 (+HST) and include a full black covering and skirt with a dreamy white tulle overlay and mini lights twinkling underneath of it.  
Hydro is not available at all booth locations. If you would like to request hydro, add $35.00 (+HST).
Only one table or cabana is permitted to any one vendor.
Payment schedule
Payments are not to be included until acceptance is confirmed. Your booth fee can be paid by e-transfer, cheque or money order.  Should your application be successful, you will be notified by Friday, October 26th, 2018. Full payment must be received by Friday, November 9th, 2018 to guarantee your spot.
Refunds
In the event of cancellation, 50% of the $350.00 fee will be refunded up to Friday, November 30th, 2018.  No refunds will be issued after this date.
The Selection Process
The two hearts Boutique Wedding Show is a juried show.  Please be aware that applications from exhibitors will only be considered if they are accompanied by a detailed description and photographs of the items that are intended to be promoted.
Please ensure the description of your product or service in the application form is clear and concise and does not exceed the 30 word limit.  This will be used for marketing and social media descriptions for all successful applicants.
Acceptance Criteria
The quality, uniqueness and mix of products/services on offer at the two hearts Boutique Wedding Show plays an important role in the overall appeal of the event.  
Setting Up and Vehicle Access
Load-in bays are available at Old Quebec Street Shoppes off the MacDonell Street entrance and will be available for delivery on Sunday, February 3rd, 2019 from 8:00 am – 11:00 am.  
Expectations from Exhibitors
The cooperation from all exhibitors is required to achieve an optimal overall appearance and atmosphere.  Every vendor is responsible for designing their cabanas or tables in an attractive manner. The cabanas and tables provided come complete with black table coverings, skirts, white tulle overlay and mini lights.  Exhibitors are encouraged to add their personal touch to their table or cabana that best reflects their company.
All shelving, lighting and anything else to best display merchandise is the responsibility of the vendor.  No shelving, temporary structures or display stands are permitted outside of the footprint of any cabana or table. Only white lights are permitted and may require a battery pack at locations without hydro access.
Business name
All exhibitors are expected to display a sign bearing their business name.  No advertising banners are permitted.
Offers and Discounts
Due to the nature of the event, we do not allow advertised sales and discounted offers.  If exhibitors wish to offer discounts, these should be done discreetly with customers.
Heating Appliances
No heating devices are allowed at the event.  Naked flames, candles etc. are not permitted as part of your display.
Show Highlights
A special highlight of the event will be the stunning Bridal Fashion Show. Expressions Modeling Agency will be coordinating the show with 20 of their talented and beautiful models. This show will feature the latest in wedding dress trends and accessories that brides will be rocking in 2019. The most beautiful, glamourous and unique gowns are to be selected by Crème Couture to be featured on the runway.  The Fashion Show will feature something for everyone that is part of a wedding. From Bridesmaids to Grooms, Mother of the Bride/Groom, guests, Flower Girl, Ring Bearer, etc. You will be entertained by it all as well as a couple of special surprises along the way.
There will be live music during the two hearts Wedding Boutique Show, adding to the ambience of Old Quebec Street's quaint European style streetscape.
Perks
Light refreshments, hot and cold drinks will be provided to the exhibitors as well as support staff to booth sit for breaks.
Free parking
One vehicle per exhibitor can be parked in the West Parkade based on availability, free of charge for the day and hours of the event.  
The two hearts Boutique Wedding Show is FREE for guests to attend.
 IMPORTANT DATES
FRIDAY, OCTOBER 26TH, 2018 – EXHIBITORS ARE SELECTED AND NOTIFIED VIA EMAIL
FRIDAY, NOVEMBER 9th, 2018 – FULL PAYMENT IS REQUIRED
SUNDAY, FEBRUARY 3rd, 2019 12:00 – 5:00 PM SHOW HOURS
Should you have any further questions, please do not hesitate to contact us.
Karen Johnson
BARREL WORKS GUELPH LTD.
519-837-0259